Ken & Vin Fresh Poultry has been operating in the popular Ghim Moh Market since 2016.
Founded by two friends, Ken and Vincent, we specialise in fresh poultry. We've always served from the heart and strived to provide great service to our customers - from preparing orders to your preference, to pre-ordering chicken for special occasions such as parties and bbqs. Inspired by our customers who continued to patronise us even after moving from the neighbourhood, we started a delivery service in 2018 to serve even more customers.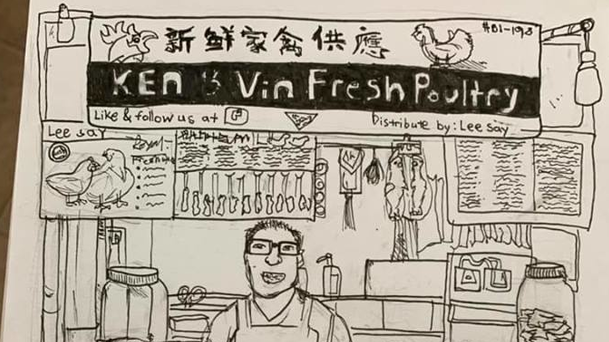 Meet Ken...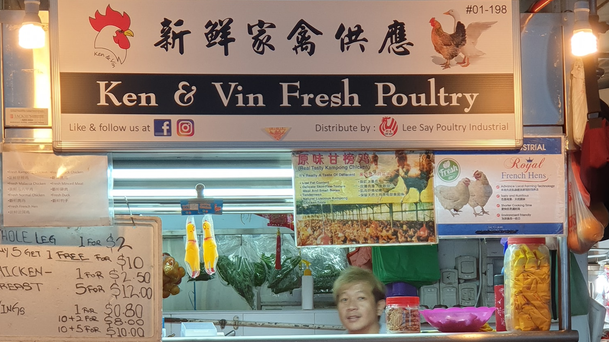 ... and Vincent!
Fresh Daily
Our farm fresh chicken and poultry products are supplied by Lee Say Poultry Industrial, one of the biggest producer in Singapore.
"Thank you for the variety of poultry options! "
I enjoy the fresh selection they offer with the service of cutting the ordered poultry according to my specifications. The hygienic method of cleaning and delivery options makes them a super convenient option for me! Mrs Chua, Chip Bee Gardens resident
Customer Reviews
"Fresh chicken and always ready to take specific orders according to my needs!"
We deliver island wide
Free delivery with purchases S$40 and above!
Prepped to your requirements
Would you like your chicken breast boneless, skinless and cubed or left intact? Would you like your chicken cut into 8 or 16 pieces? Tell us - we will prep to your needs.
"Would definitely recommend them. Thank you so much!"
I'm staying in the North East and I am still patronizing their stall. Awesome and friendly service. 🐔 are very fresh and plus delivery to your doorstep. What else can you ask for ? They are both very sincere sellers and I would definitely recommend them. Thank you so much. Avery, Sengkang resident
Contact us for any specific order requirements!
Blk 20 Ghim Moh #01-198, Singapore
Tuesday - Sunday: 6am - 1pm (including Public Holidays). We are close on every Monday. We deliver from Tuesday to Saturdays, between 1.30pm - 4pm.